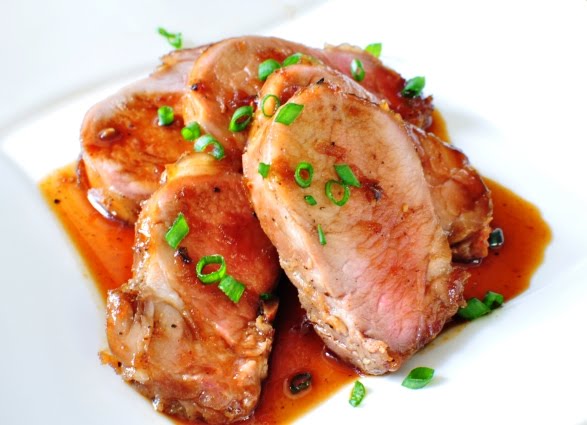 You know a marketing campaign is good, when years after it has run its course, you still recall their slogan. I love pork and I think calling it the "other" white meat sells itself short sometimes. My new favorite cut, is pork tenderloin. It is succulent, delicious and is the perfect canvas to absorb all sorts of flavors. The fact that it is relatively lean doesn't hurt either – especially this time of year.
The recipe I made last night was inspired by one of my favorite wing recipes, Maple Wings. If you have never tried this recipe, you definitely should – they are sensational and everyone always raves about them. I can't tell you the number of times I have given out that recipe. The combination of soy sauce, teriyaki and maple syrup is spectacular and really brings out the natural flavors in the pork. I love to serve this dish with my Ginger Rice and a cool cucumber salad. Sooooo good!
Maple Pork Tenderloin
Ingredients
1 pork tenderloin (approximately 1.5-2 pounds)
2/3 c. pure maple syrup
1/4 c. soy sauce
1/3 c. teriyaki sauce (preferably Yoshida's)
1 T. finely minced garlic
1 t. pepper
1/4 t. crushed red pepper
Directions
Put pork tenderloin in a ziploc bag. In a separate bowl, mix all the remaining ingredients and pour into the ziploc bag. Marinate for as long as you can – overnight, if possible.
Remove pork from the plastic bag and grill or bake in a 400 degree oven until the pork reaches an internal temperature of 145 degrees.
While the pork is cooking, boil the remaining marinade in the bag for atleast 10 minutes.
When the pork is finished, slice and serve with the marinade as a sauce.
Now, wasn't that easy!