Here they are, my five crushes at the moment.  These are either new discoveries or re-discovered favorites.
1.  Camera Ready Cosmetics Sample Sizes: I have long heard about makeup such as Cinema Secrets however I was reluctant to purchase a large size of this makeup without ever seeing any of the color swatches online.  Well…I stumbled upon sample sizes on their website and couldn't be happier.  For only $3 each you can try out numerous different colors and brands on this website.  Shipping is not included.
2. Julep Box: This is the first time I have subscribed to a box service and I am loving it!!!  For $19,95/month you receive two full size nail polishes and other goodies such as hand lotion, top coats, cuticle creams and lip gloss.  Boxes come with four items every month and I have yet to get a box I don't love!  Another added benefit is that once you become a member you receive 20% off all purchases and free shipping.  If you enter the code FREEBOX at checkout your first box is free!
3. Urban Decay Naked Ultra Nourishing Lip Gloss: I am a huge fan of everything Naked and this is no exception.  I got the color Love Child which is a glossy, nude-pink color that would look good on anyone.  The color is opaque and has good staying power for a moisturizing gloss.
4. Qrunch Quinoa Burgers: These are gluten free, vegan and super delicious!  I can't stand mushrooms so I haven't ate many veggie burgers, but was thrilled to see that these don't contain mushrooms.  There is only 200 calories in each patty and are a  filling and healthy new addition in my home.
5. Soda water with a little fresh fruit:  OK, so this is nothing groundbreaking but for some reason I have forgotten about this treat.  Being a person that hates drinking water this helps me get my 8 glasses in and it tastes great!  My favorites are using fresh orange juice or pomegranate juice.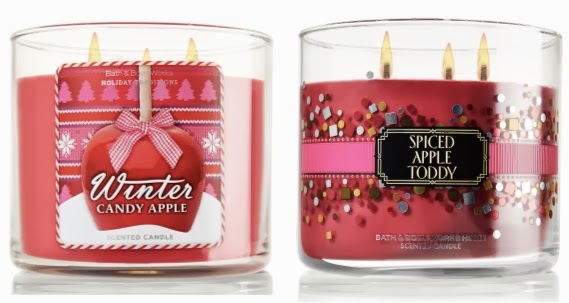 Ah, tis the season for all those amazing Holiday parties! It is so fun to dress up, celebrate the holidays and catch up with friends. I try to be a thoughtful gift giver, but it can be hard and when it comes to hostess gifts. I have found that if you have a stash it is an easy way to look fabulously put together (not to mention thoughtful) without much effort at all. Prior to the holidays gearing up I make sure to have a stash of little gifts that will be sure to please just about anyone.
Here is my list of favorite hostess gifts, and as a bonus – they are all less than $15!
Gift #1: Bath & Body Works Candles
– Now I have to caveat this with the fact that these are normally $20 a piece. However, Bath & Body Works regularly (and by regularly I mean at least every other week) has these on sale for 2 for $22, making them $11 each. I have tried all sorts of candles and these are by far my favorite. The scents are amazing and with flavors such as Winter Candy Apple, Spiced Apple Toddy and Red Velvet Cupcake they are festive, fun and amazing quality.
Gift #2: Lip Gloss – Stila Lip Glaze Trio $15; NYX Butter Gloss Lip Set $10 – Who doesn't love Lip Gloss? I have to say that this is an amazing gift for almost everyone. This was the first hostess gift I gave someone and they actually stopped me to thank me for the fabulous lip glosses. I game myself a little pat on the back….
Gift #3:
Clever Notepads from Ben's Garden, $14
– I love my iphone but I have to admit that I still love to write a notes. Be it a to-do list or message to a loved one these fun and classy notepads are the perfect gift.
Gift #4:
Crate and Barrel Candy
$6.95 – $15.00!!! Crate and Barrel has awesome candy that is packaged adorable and absolutely delicious. These are fun confections that can be enjoyed by all and just the perfect bite to curb that sweet tooth.
Gift #5: Sur La Table Mason Jar Shot Glass Set of 4 $9.95: These adorable, tiny mason jars are so on trend and the perfect way to invite holiday cheer in a fun way.
I hope that these fun gifts help give you some ideas for your parties this year.
Happy Holidays!
Catherine