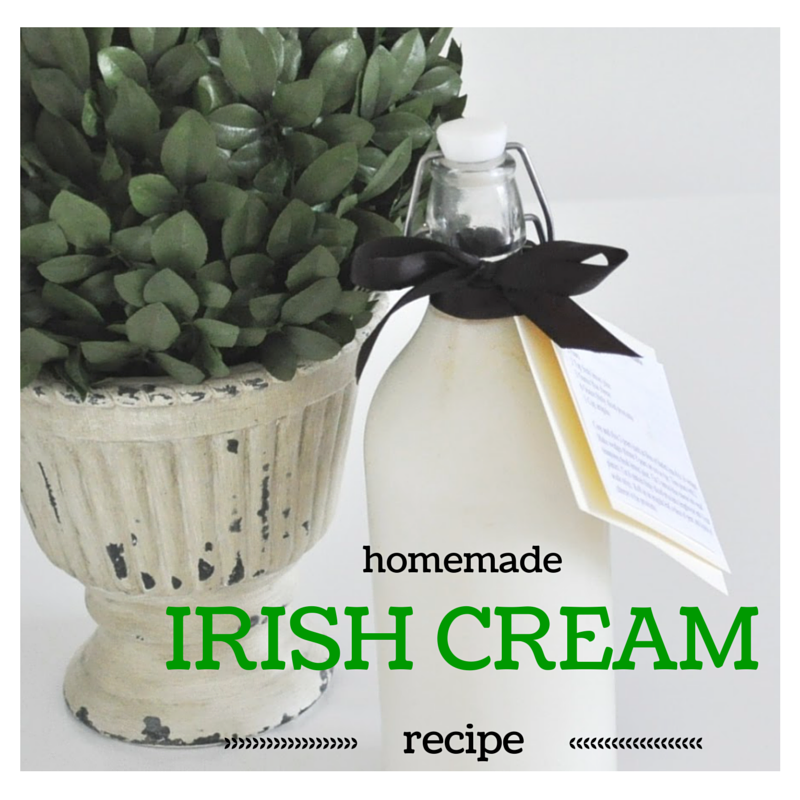 I love Irish Cream and was thrilled when I found this recipe for a homemade version!  Not only that but I get equally excited when I find a new recipe that will make a good hostess gift and this is definitely one of those recipes. It tastes better than Bailey's and couldn't be easier to make.
Homemade Irish Cream
Ingredients
1 cup milk
1 (14 ounce) can sweetened condensed milk
1 cup Irish whiskey
1 teaspoon strong coffee
2 tablespoons chocolate syrup
2 teaspoons vanilla extract
In a blender, combine milk, sweetened condensed milk, Irish whiskey, coffee, chocolate syrup, and vanilla extract. Blend on high for 20 to 30 seconds. Store in a tightly sealed container in the refrigerator. Shake well before serving.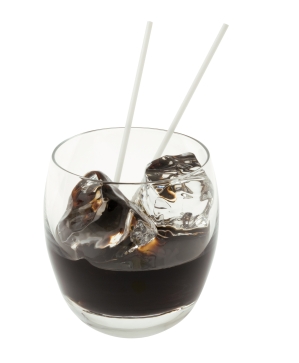 I am not sure if it is the kids, everyday life or what, but I have come to really enjoy a cocktail or two every now and again. Combine that with my never ending desire to try something new in the kitchen and I just had to try making my own Kahlua.
The main thing I found is that the longer I let this Kahlua rest, the better it tasted as it mellowed out. It is truly delicious and a wonderful hostess gift. Cheers!
Kahlua
Ingredients
1 quart water
2 1/2 cups sugar
3 tablespoons instant coffee
1 tablespoon vanilla
2 1/2 cups vodka
Directions
Boil water, coffee and sugar. Just as it boils, turn down heat to medium low and simmer for 2 hours (stirring occassionally). After two hours, you should have a syrup that coats the back of your spoon.
Let cool and add vanilla and vodka.
Enjoy with coffee, cream, in a cocktail…

I wouldn't consider myself a big drinker. I enjoy a nice glass of wine and the occasional cocktail when I go out. I have my usual favorite – citron vodka with soda and lime. I appreciate how alcohol can take the edge off, but don't want all the extra calories that accompany so many mixed drinks so my citron & soda suits me just fine.


I have however found a new indulgence. I was perusing the aisles at my liquor store when I came across these little bottles of Kahlua Mudslides. Now let me backup…for those of you who are lucky enough to purchase liquor in regular stores, I am SOOOOOO jealous! However, in Washington the state controls the liquor, not to mention the prices so we are SOL and must purchase our hard alcohol (and anything containing hard alcohol) in liquor stores. Sorry for the digression, but as I said, I came across this pack of mudslides and decided to get them as a fun cocktail for our annual winter trip with friends. Oh my gosh, they were SO good. The problem was we went through the four-pack in no time at all and were left without any more Mudslides and a long night ahead of us. Being the crafty gals that my friends and I are we quickly found a recipe for mudslides and concocted a pitcher of our own mudslides that I must say were pretty darn delicious. I hope you enjoy them. Although they aren't light on calories, as an occasional indulgence, they are worth it and very spectacular!
Mudslides
1 part vodka
1 part irish cream (here is my link to my own homemade version of Irish Cream)
1 part Kahlua
1 part milk or cream (we used milk and it was great)
Directions
MIx all the ingredients together and chill. Serve straight up or on ice.