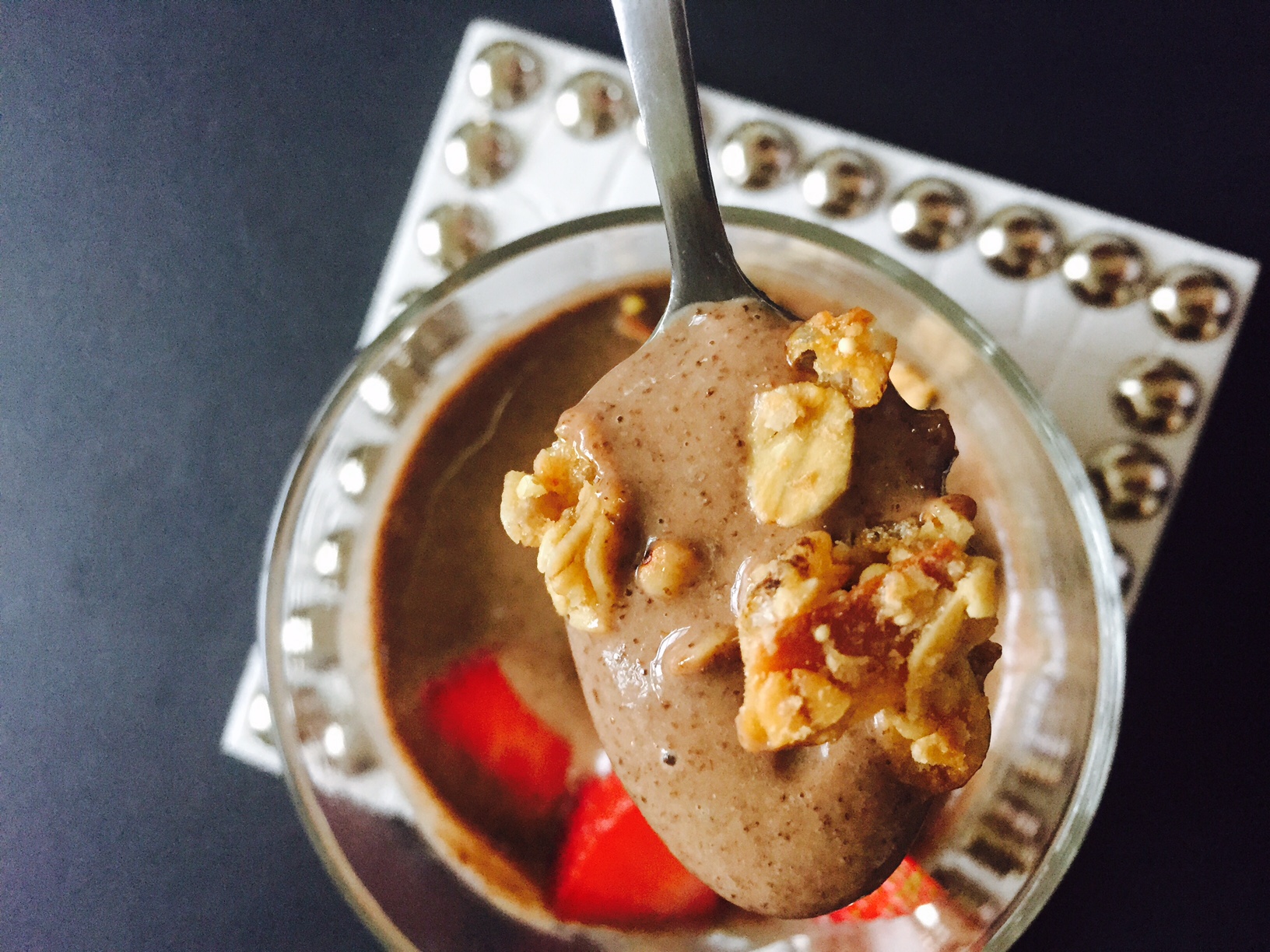 I LOVE chocolate, sugar, candy, sweets, and all sorts of amazing, yummy treats.  I have tried to give up sugar at times but was so miserable that I will no longer attempt to deprive myself.  However, I have promised to be a bit healthier while I embrace my love of sugary sweetness.  This is where my delectable Chocolate Chia Seed Pudding Parfait comes in.
Chia seeds are amazing for you and are such a versatile ingredient.  They are rich in omega-3 fatty acids, high in protein, fiber and anti-oxidant rich to boot!  These magical seeds naturally thicken in liquid making them the perfect way to create a healthy pudding.  My favorite way to enjoy this pudding is to add granola (for crunch) and fresh fruit (in this case raspberries) for a burst of freshness.
I enjoy this pudding for breakfast or it can be eaten as a snack or dessert.  This is such a tasty and healthy dish that you can enjoy it guilt-free any time of day.   Please let me know of any healthy dessert swaps that you might have!
Chocolate Chia Seed Pudding Parfait
Ingredients
1 cup milk (I use unsweetened almond milk)
1/4 cup chia seeds
2 T. cocoa powder
2 T. brown sugar
1 T. granulated sugar
1/2 tsp. vanilla
1/8 tsp. salt
Granola
Fruit/Berries
Directions
Whisk milk, chia seeds, cocoa powder, brown sugar, white sugar, coffee granules, vanilla extract, and salt together in a bowl until pudding is smooth. Let sit for 5 minutes; stir. Repeat sitting and stirring process at least 2 times.
Cover the bowl with plastic wrap and refrigerate, 8 hours to overnight. Pour mixture into blender and blend until smooth. Spoon into bowls and top with granola and berries.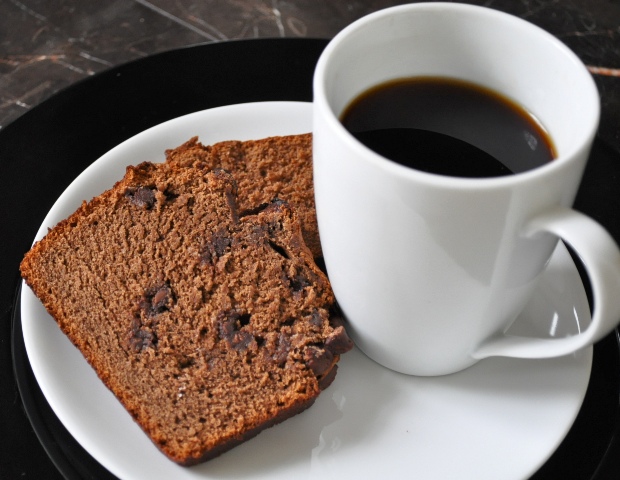 Chilly fall mornings – I hate them. I really should move to Arizona where the heat is too much so I could appreciate the Seattle mornings I have lived with my entire life. Alas, that will have to wait another ten years until my little tykes have left home and I am free to do whatever I please.
In the meantime, this Double Chocolate Banana Bread will act as a "hug" for your tummy. Moist and delicious, this is the perfect treat to enjoy with your morning or afternoon cup of coffee.

Double Chocolate Banana Bread

Ingredients
1 3/4 cups all-purpose flour
1/4 cup unsweetened cocoa powder (Dutch processed or regular)
1 cup granulated white sugar
1 teaspoons baking powder
1/4 teaspoon baking soda
1/4 teaspoon salt
1/2 cup dark or milk chocolate chips
2 large eggs
1/2 cup vegetable or canola oil
3 ripe bananas
1 teaspoon pure vanilla extract
Directions
Preheat oven to 350 degrees F. Butter and flour (or spray with a non stick vegetable/flour spray) the bottom and sides of a 9 x 5 x 3 inch loaf pan.
In a large bowl whisk together the flour, cocoa powder, sugar, baking powder, baking soda, and salt. In a large food processor, combine the bananas, eggs, vegetable oil, and vanilla. Process until smooth. With a rubber spatula or wooden spoon, lightly fold the wet ingredients (banana mixture) into the dry ingredients until just combined and batter is thick and chunky. Fold in the chocolate chips. Scrape batter into prepared pan and bake until bread has risen and a toothpick inserted in the center comes out clean, about 55 to 65 minutes.
Place on a wire rack to cool and then remove the bread from the pan. Serve warm or at room temperature. Can be covered and stored for a few days, or frozen for longer storage.
Makes 1 – 9 x 5 x 3 inch loaf.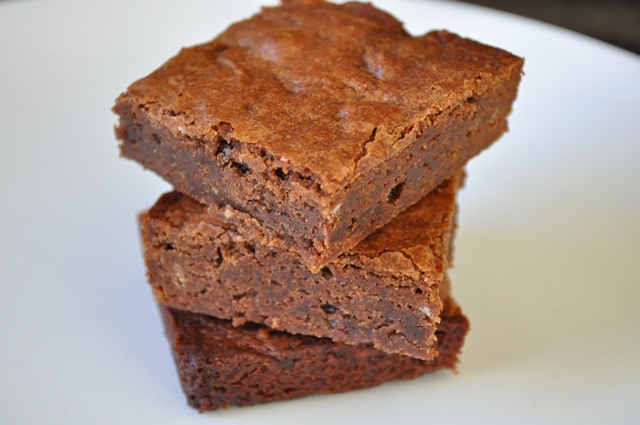 I love the pitter patter of little feet. As my boys have gotten older (they are now nine and eight), the tiny pitter patter has become louder stomps, but I still love hearing it. We live in a neighborhood with lots of kids. There are times when I will have 6-10 little boys running around and I just love it. Given that there are so many of them, they are not always at my home, but it makes me appreciate them so much when they are here. They are sweet, endearing, thoughtful, smart and say the funniest things I have ever heard.
Sometimes I have nothing yummy to feed them and these brownies have become my fool-proof recipe for simple, delicious, decadent and fudgy brownies. My favorite thing about these brownies is that I don't have to whip out my mixer and I always have all the ingredients on hand.
Easiest Brownies Ever
adapted from Ghiradelli
Ingredients
1 cup semi-sweet chocolate chips
1 stick butter, cut into pieces
1 c. firmly packed lighted brown sugar
1 tsp. vanilla
2 large eggs
3/4 c. + 2 T all-purpose flour
1/4 tsp. baking powder
1/4 tsp. salt
Directions
Preheat the oven to 350°F. Butter and flour an 8-inch square baking pan. In the top of a double boiler or in a heatproof bowl over barely simmering water, melt the chocolate chips and butter, stirring occasionally until smooth. Remove the pan from the heat and let cool to room temperature. Stir the brown sugar and vanilla into the chocolate mixture. Add the eggs and mix well. In a bowl, sift together flour, baking powder, and salt. Slowly fold the flour mixture into the chocolate mixture, mixing well until blended. Stir in the chocolate chips and pour the batter into the prepared pan. Bake for 25 to 30 minutes, until a tester comes out clean. Remove from the oven and cool for at least 10 minutes before cutting into 2-inch squares. Makes approximately 16 squares – depending on how much batter you eat. 🙂