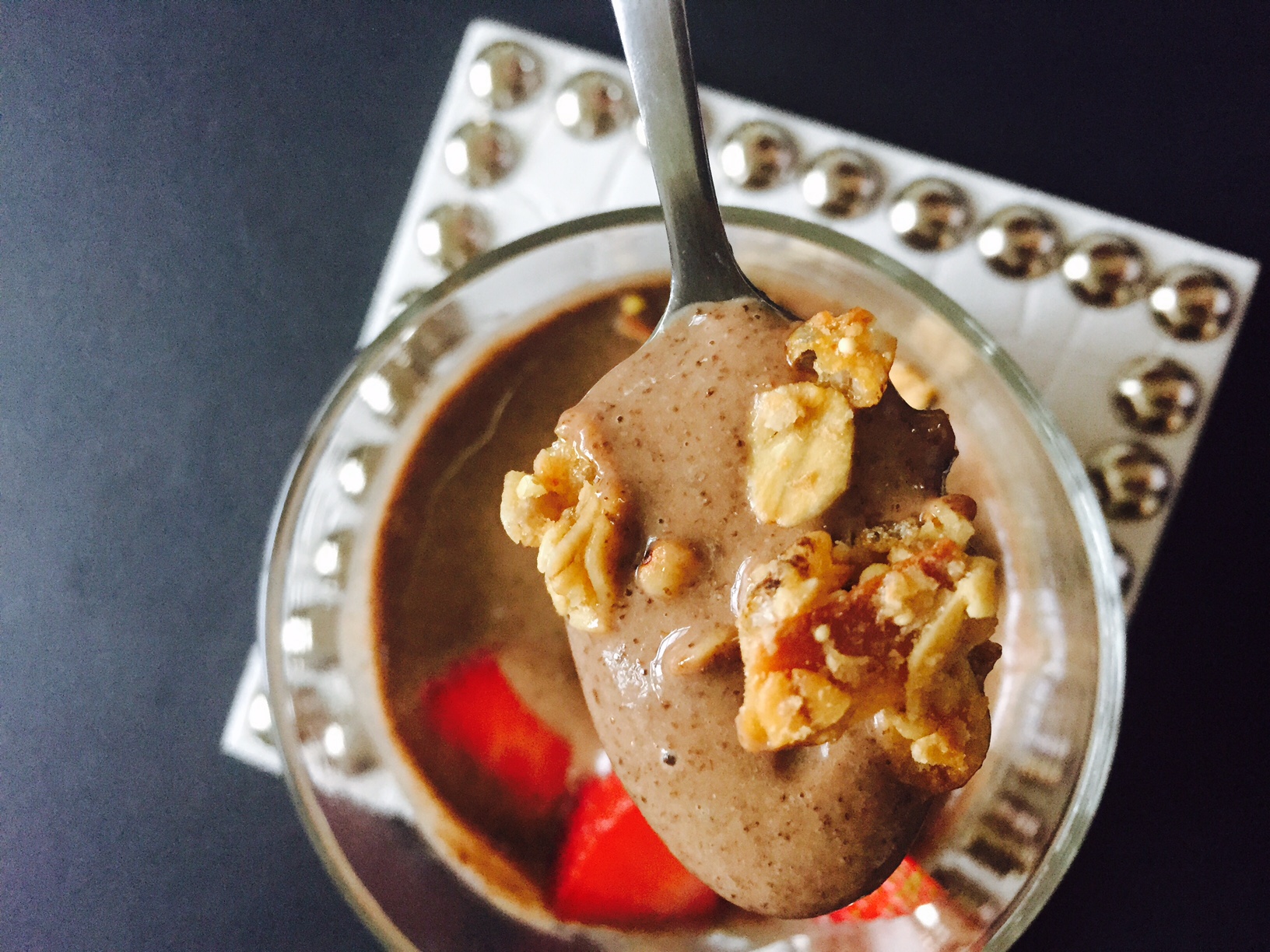 I LOVE chocolate, sugar, candy, sweets, and all sorts of amazing, yummy treats.  I have tried to give up sugar at times but was so miserable that I will no longer attempt to deprive myself.  However, I have promised to be a bit healthier while I embrace my love of sugary sweetness.  This is where my delectable Chocolate Chia Seed Pudding Parfait comes in.
Chia seeds are amazing for you and are such a versatile ingredient.  They are rich in omega-3 fatty acids, high in protein, fiber and anti-oxidant rich to boot!  These magical seeds naturally thicken in liquid making them the perfect way to create a healthy pudding.  My favorite way to enjoy this pudding is to add granola (for crunch) and fresh fruit (in this case raspberries) for a burst of freshness.
I enjoy this pudding for breakfast or it can be eaten as a snack or dessert.  This is such a tasty and healthy dish that you can enjoy it guilt-free any time of day.   Please let me know of any healthy dessert swaps that you might have!
Chocolate Chia Seed Pudding Parfait
Ingredients
1 cup milk (I use unsweetened almond milk)
1/4 cup chia seeds
2 T. cocoa powder
2 T. brown sugar
1 T. granulated sugar
1/2 tsp. vanilla
1/8 tsp. salt
Granola
Fruit/Berries
Directions
Whisk milk, chia seeds, cocoa powder, brown sugar, white sugar, coffee granules, vanilla extract, and salt together in a bowl until pudding is smooth. Let sit for 5 minutes; stir. Repeat sitting and stirring process at least 2 times.
Cover the bowl with plastic wrap and refrigerate, 8 hours to overnight. Pour mixture into blender and blend until smooth. Spoon into bowls and top with granola and berries.