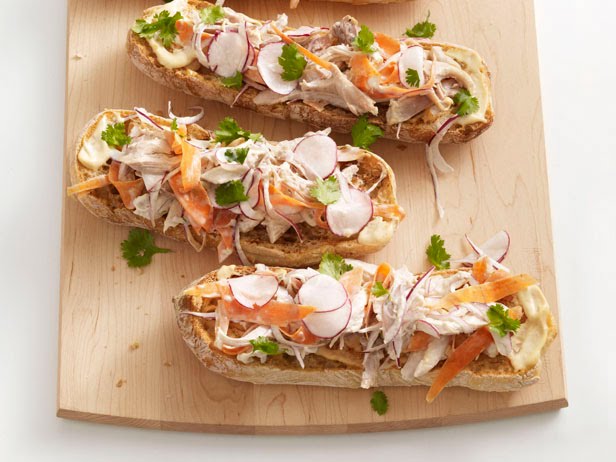 Summer is here and I am loving it! I recently took a road trip and picked up a Food Network magazine to peruse while sitting by the pool. They had the most amazing recipe for Open Face Vietnamese Chicken Sandwiches. I love the idea that this sandwich is open face (less carbs) and the addition of fresh veggies like radishes and carrots gives this recipe a delicious twist. A little bit sweet (from the honey), a little bit tart (from the lime and gherkins) and a little spicy (from the Sriracha), this sandwich has it all. I hope you enjoy it as much as I did.
IMAGE COURTESY OF FOOD NETWORK
Open Face Vietnamese Chicken Sandwiches

Ingredients
1/2 small red onion, thinly sliced
2 medium carrots, shaved into ribbons with a vegetable peeler
4 radishes, thinly sliced
2 crusty hoagie-style rolls (I actually used the 100 calorie thin buns from Oroweat to cut down on the fat and calories)
1/2 cup mayonnaise (I used low-fat mayo to cut down the calories by half)
1/4 cup fresh lime juice (from about 4 limes)
2 teaspoons honey
2 tablespoons chopped cornichons or gherkins, plus 1 tablespoon brine from the jar
Kosher salt
3 cups shredded rotisserie chicken (from 1 small chicken)
1/3 cup chopped fresh cilantro, plus cilantro leaves for topping
1 tablespoon Asian chile sauce (such as Sriracha)


Directions
Preheat the oven to 350 degrees F. Soak the red onion, carrots and radishes in ice water for 5 minutes, then drain. Split each roll in half lengthwise to make 4 pieces. Transfer to the oven to toast. Whisk 1/4 cup mayonnaise, the lime juice, honey, cornichons and brine, and 1/2 teaspoon salt in a large bowl. Add the chicken, onion, carrots, radishes and chopped cilantro and toss. Mix the chile sauce and the remaining 1/4 cup mayonnaise in a small bowl. Spread each piece of bread with some chile mayonnaise, then top with the chicken salad and cilantro leaves.