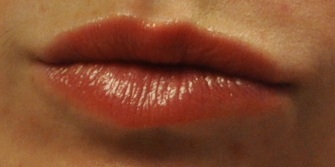 I was at my neighborhood Rite Aid and saw these pretty glosses in gold tubes and was super excited to try them. They had three pluses right away: pretty colors, pretty packaging and the were from L'Oreal whose makeup I tend to think is consistently above average in terms of quality. Rite Aid was having a BOGO deal on all L'Oreal products so I picked up three of these new glosses and one of my tried and true favorite felt tip L'Oreal eyeliners.
I have to say since swatching these and trying these on once, I haven't used them any more. I am not impressed with anything regarding these glosses. Unfortunately they are one giant disappointment. The two things I was looking for in these glosses – pigmentation and smooth feel, they just don't have.
Let's start with pigmentation. I love me some Carmex and if I need a slightly glossy look my natural lip color is pigmented enough where with a bit of Carmex I am good to go. If I see a lip gloss that looks to have a pigmented color I want some color payoff. The coral color does give a bit of a color, but the two pinks are hopeless. They will blend right into your lips and basically be unnoticable. See here (the color I had on is Rose On and On):
The product claims are as follows, "Colour Riche Caresse Liquid Lip Lacquer by L'Oreal is a water based stain formula with high shine. The luminous lip color is more comparable to a traditional lipstick, although this product too is lighter weight than a traditional lipstick."
Unfortunately I found these to be nothing like a true lipstick, just a watery, slightly sticky mess that did not apply with much pigmentation or last very long at all.
In case you were curious, here are the colors I tried on:


Hopefully I will have better luck on my next set of products. Until then…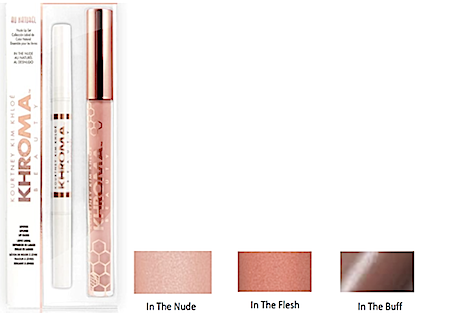 I was in Ulta the other day browsing for nothing specific when I cam across a new line of cosmetics from the Kardashian sisters. I have to admit that I do watch the Kardashians. I love their hair, makeup and clothing and well, as far as mindless, trashy tv goes – it is pretty awesome. I didn't know that they were coming out with their own line of cosmetics, but when I saw this nude lip set, I decided to give it a go. Let me start by saying that I am a nude lip junkie. I probably have close to a hundred lipsticks and the better part of them are some sort of nude.
What drew me to this product was that it was a liner, lipstick and gloss all in one. The retail was $14.99 and Ulta had a buy one get one 50% off deal going so I decided to try the mascara out as well – more on that in a later blog post. I have to say that I there are aspects that I really like this product. I got the "In The Nude" shade and it really is the perfect nude. I found with this product you really need the set to achieve the perfect nude lip as the liner and lipstick are both very matte and the gloss is very sheer. Here is a picture of what my lips looked like:
The biggest con of this product would have to be the smell of the gloss. I can't describe it, but it is a mix of perfume and chemicals. The smell does not linger, so after several minutes it does dissipate.
Overall I wouldn't re-purchase because I feel that it is a bit pricey for what you get and I am skeptical regarding how long the product will last. I will continue to use the product as the shade is quite lovely and like I said, I am a nude lip junkie.