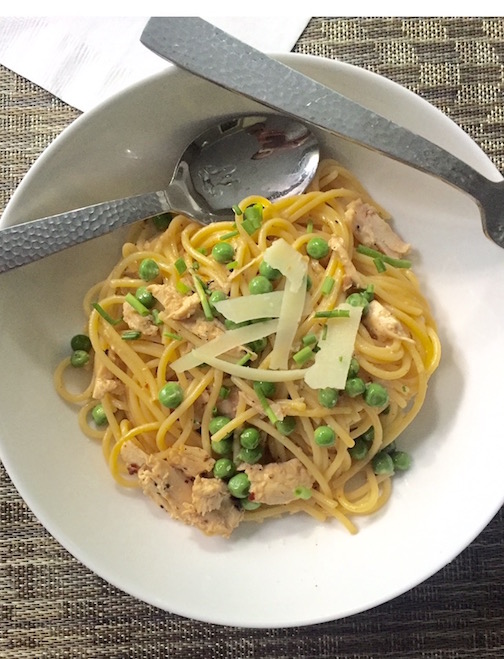 Have you ever been running around all day only to find that you look up and it is 5:30 and everyone in your house is hungry? I have to admit that this scenario plays out sometimes several times a week in my house, so I have a few recipes that I can always whip up in no time. These recipes include staple items that I always have in my pantry and fridge. This pasta with peas & chicken is one of my go to meals that is just perfect.
The combination of pasta (who doesn't love pasta?), chicken (the perfect protein) and peas (frozen ones keep for a very long time) make this just that, a staple. The longest part of this recipe is waiting for that darn pot of pasta water to boil which can always be a drag when you are in a rush. I generally will throw in an extra item or two from my never ending "to-do" list which is helpful. Think laundry, lunges, dishes, helping kids with homework…you name it there is always something extra that needs to be done.
I definitely think that this is one recipe to keep in your arsenal. It will be loved by your family and in the event anyone has an aversion to peas, which my boys do, you can just omit them or separate their portion and add them in after separated. Without further ado, here is the recipe…enjoy!