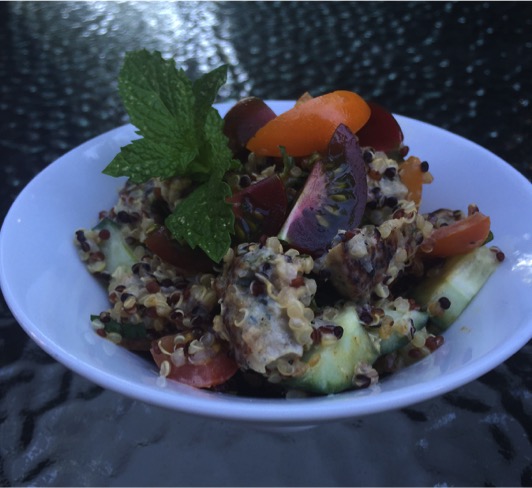 There is a Mediterranean restaurant that my husband and I absolutely love going to called, Mediterranean Kitchen. The food is so flavorful (think super garlicky and lemony) and although it isn't the place to go if you are on a first date (unless you are into that sort of thing) it is definitely the place to go if you want something crazy garlicky good.
I love Mediterranean food which is why I am so excited to share my recipe for a Greek Quinoa Salad that I created.   I am always looking for new ways to incorporate these fresh flavors into my cooking so when I found a recipe for a greek salad with yogurt dressing I knew it would be a winner.
The dressing itself is delicious and not only is great as a dressing but also is amazing utilized as a sauce as well.  I did create this recipe to be a little more garlicky, a lot more lemony and a touch lighter (in calories) by adding both olive oil and chicken stock then traditional dressings/sauces.   I used Greek yogurt for its added protein punch and added quinoa and garbanzo beans to make this salad super filling.