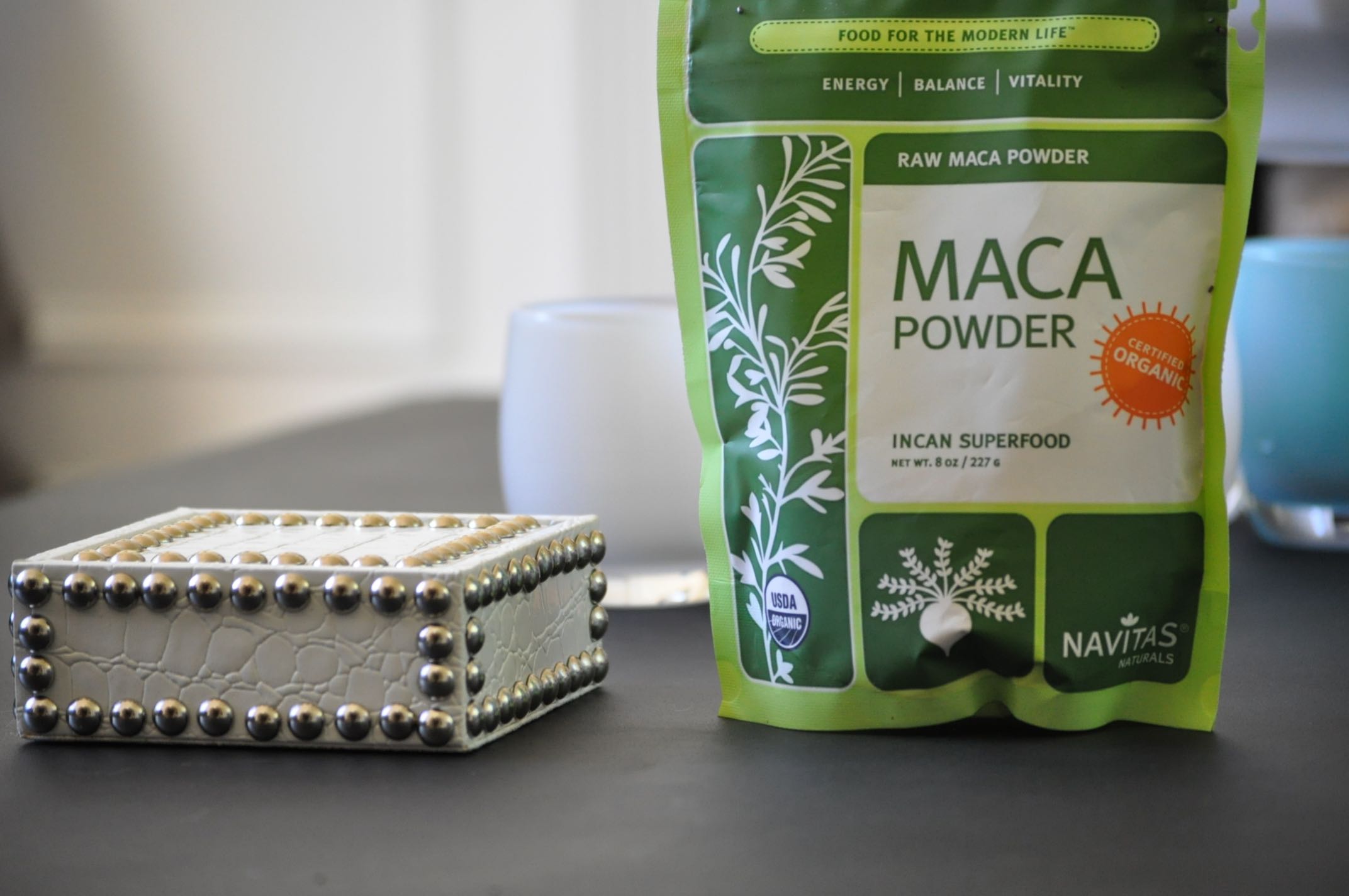 I have read about the many, many benefits of Maca Powder and wanted to come up with some tasty and delicious ways to work this magical ingredient into my day.
I was perusing Pinterest one day and wanted to know how to incorporate this item into my daily life and came across this article from the Paleo Mama highlighting 14 Benefits of Maca Powder.  They are numerous so before I share a couple of my favorite ways to incorporate Maca, here are the reasons why you should pick up some Maca for yourself.
Increases Energy – Maca has a reputation for boosting energy levels without stressing the adrenals (like coffee can)
Increases Libido and Sexual Function – Maca is a known aphrodisiac among native Peruvian culture. It has been known to increase the libido among men and women!
Improves Fertility – Black Maca has been known to increase sperm count and volume in men and Red Maca has been known to balance female hormones and ovulation cycles.
Regulates Hormone Balance – Maca has a vast variety of amino acids, which are known as the building blocks of hormones.
Reduces Depression – When you take Maca regularly, Maca can work to increase positive emotional moods. Maca has a very unique nutrient called macamides, which aid in decreasing depression and anxiety.
Reduces Anxiety – Maca has a positive effect on your individual mood and can help to reduce any self-perceived anxiety.
Helps with Menopause – Many Maca uses report a significant decrease in hot flashes after using Maca powder.
Enhances Mental Clarity – Black Maca has been shown to have a beneficial effect on learning and memory. Maca is safe for both children and adults!
Improves Blood Circulation – a very interesting property of Maca, is that it has been seen to improve blood circulation.
Improves Acne – When acne is related to hormone imbalance, taking Maca can be very productive for improving hormonal acne.
Improves Muscle Gain – More and more athletes and bodybuilders are using Maca powder to increase their athletic performance.
Improves Thyroid Function – Due to the hormone balancing properties in Maca, it has been known to stimulate thyroid function.
Improves Strong Teeth and Bones – Black Maca is great for increasing bone density and strength.
Improves Skin Tone – Maca has a strong nutrient content and hormone balancing effect on our skin.
Improves Hair Growth – Maca has been traditionally used to stimulate hair growth, as well as prevent hair loss.
I don't know about you, but ever since reading this I have been trying to incorporate Maca into my everyday life.  Here are a couple of my favorite recipes using Maca.  The first is for a Maca Iced Coffee.  This drink is super simple to make and a very refreshing way to enjoy some iced coffee.  The second recipe is for Maca Oatmeal Cookies.  These are a yummy snack and I often enjoy these as a delicious breakfast cookie.  Feel free to add dried fruits or nuts, anything that suits you!
I hope you enjoy try these recipes and incorporate this healthy powder into your everyday life.