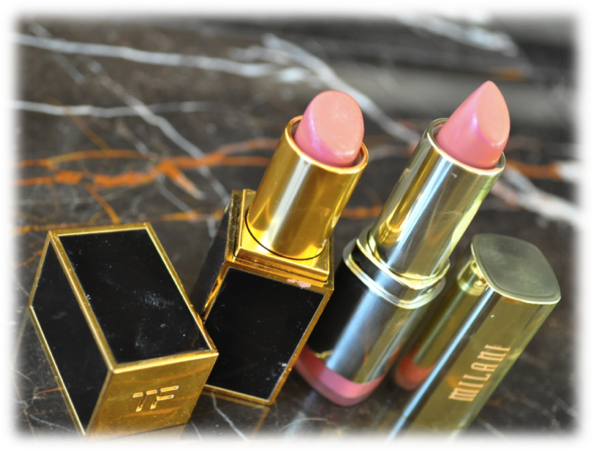 I have an unhealthy obsession with nude-pink lipsticks.  I have so many from different brands that resemble one another, however my favorite without question is Tom Ford's Spanish Pink.
I stumbled upon this color by total accident.  I was racing through Nordstrom and was sidetracked by the gorgeous display of Tom Ford lipsticks.  I swatched several shades but was instantly enchanted with Spanish Pink.   I told the gal at the makeup counter I would take it and proceeded to fork over my credit card.  I didn't think to ask the price but was expecting to spend anywhere from $25 to $35.  Imagine my shock when, with tax the total came to $54 and change.  OMG, I was stunned, but rather than part with this stick of pink perfection I paid and went on my way.
Truth be told if I knew the cost I am not certain I would have made the purchase.  I mean $49 before tax is outrageous for a lipstick.  However, since I do have it I must admit that I really love it.  The color is creamy, opaque and the perfect shade of pink.   This stuff is also super moisturizing.  My lips tend to flake quite a bit and get very dry and I have no bleeding or feathering with this stuff.   Yes, for this much I do expect perfection and I will say this stuff definitely delivers, but I have been looking for a dupe and until recently I was not able to find one.
Fast forward several months later…I am in Wal-Mart and come across the Milani lipstick in #26, Nude Creme.  This is almost an exact color match for the Tom Ford Spanish Pink.  In terms of creaminess and opaqueness they are a replica.   As much as I love my Spanish Pink now that I have a great dupe and can save myself close to $50 I am going to stick with my Milani Nude Creme.
I recently posted some fabulous looks featuring women wearing this nude-pink lip on Glaamspot.   Here are some of my favorite celebrity makeup looks featuring this lip:
1. Marissa Miller   2. Jennifer Garner   3. Halle Berry   4. Kate Hudson   5. Joanna Krupa
For more great celebrity makeup looks that we can all wear, check out
Glaamspot.com!
xoxo,
Catherine